Good relationships support good health
Not only do public health experts agree that our social and civic relationships affect our health, so do our neighbors.
People in Snohomish County report that the single most important factor impacting their lives is their relationships with friends and family. They believe that outlook on life, sense of purpose and meaning, and neighborhood safety are just as important in determining our well-being as are mental, emotional and physical health and access to healthy food and medical care. Learn more about the PIHC Snohomish County Health & Well-Being report – Feb 2016.
The Community Health Needs Assessment tracks the number of greater Seattle residents who report having insufficient social and emotional support. AARP developed this livability index index to assess the livability of communities throughout the country.
Are we connected?
Community connections are on the rise among greater Seattle residents despite the fast pace of regional growth. Nearly all metrics of social cohesion increased significantly over the last three years. Still, this is greater Seattle's weakest area of civic health.
Community connectedness varies demographically. Like most civic indicators, it is affected by inequities. Generally, connectedness increases with age, income and education. But there are notable exceptions. In greater Seattle, hearing from family and friends decreases with age, while talking and exchanging favors with neighbors decreases with income level. Women in our region have stronger social connections than men.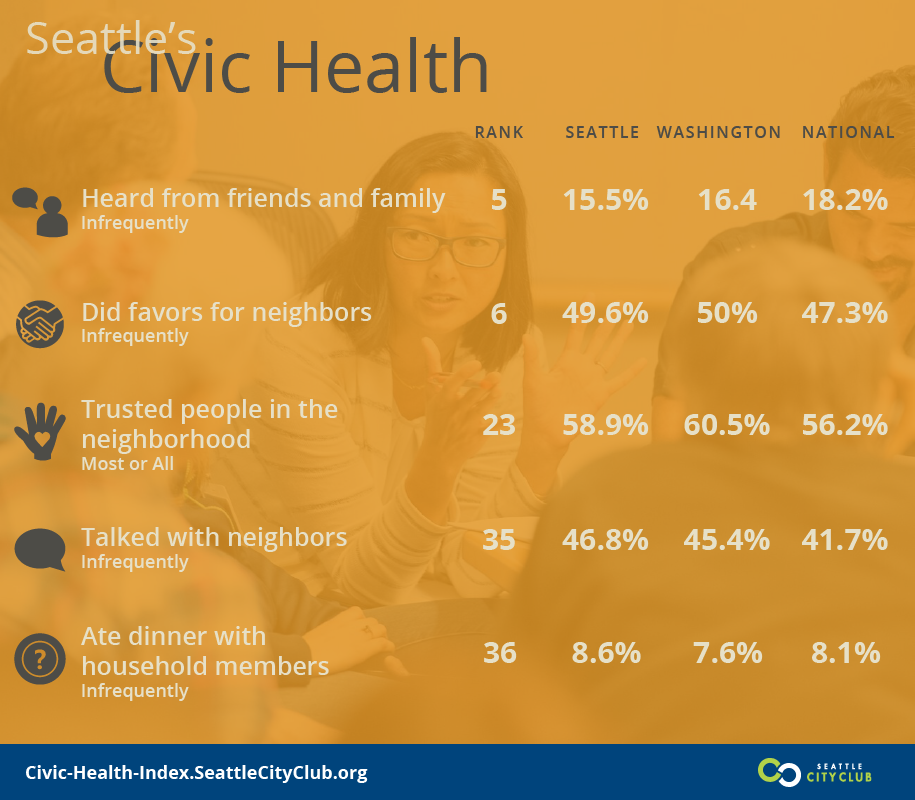 *Ranked against the 51 largest metropolitan areas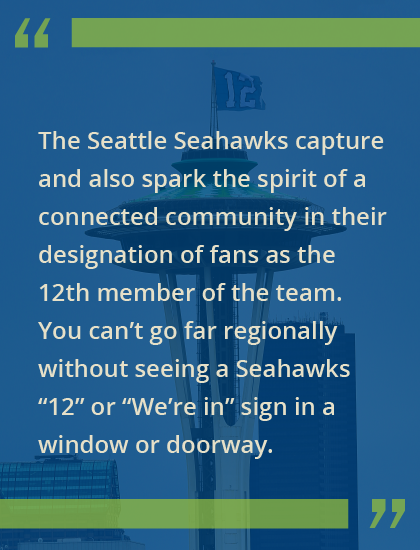 The Seattle Seahawks capture and also spark the spirit of a connected community in their designation of fans as the 12th member of the team. You can't go far regionally without seeing a Seahawks "12" or "We're in" sign in a window or doorway.
Are we powerful?
In addition to strong social connections, personal health depends on the power to influence the context of our lives. Social isolation and discrimination negatively impact health outcomes, but strong civic agency strengthens well-being and can positively affect our immune systems and vulnerability to disease.
The Providence Institute for a Healthier Community's 2016 Health & Well-being Monitor revealed that only 42% of Snohomish County residents who experienced discrimination reported positive overall well-being, compared to 64% of those reporting little no discrimination. Higher overall well-being was associated with better physical health, and reduced chronic illness.
Researchers at the University of Washington developed a public health model for the prevention of youth substance abuse. They identify civic and social activities as protective factors that give youth opportunities and rewards for participating in positive and healthy activities.
Civic strength
Without networks of personal support and safety, individuals and families don't thrive. The same is true for communities. One metric of community health is strong civic institutions that provide opportunities for gathering, empowerment, celebration and recreation.
A healthy community needs different types of civic institutions and gathering places:
those that build bonds among residents who share common backgrounds, interests, beliefs and needs, including neighborhood associations, sports leagues, churches, mosques and synagogues;
those that build bridges of respect, understanding and common ground across the community's diversity, including libraries, parks, cultural festivals and candidate debates; and
those that empower underserved and disenfranchised residents, including literacy training centers, political and human rights organizations and food banks.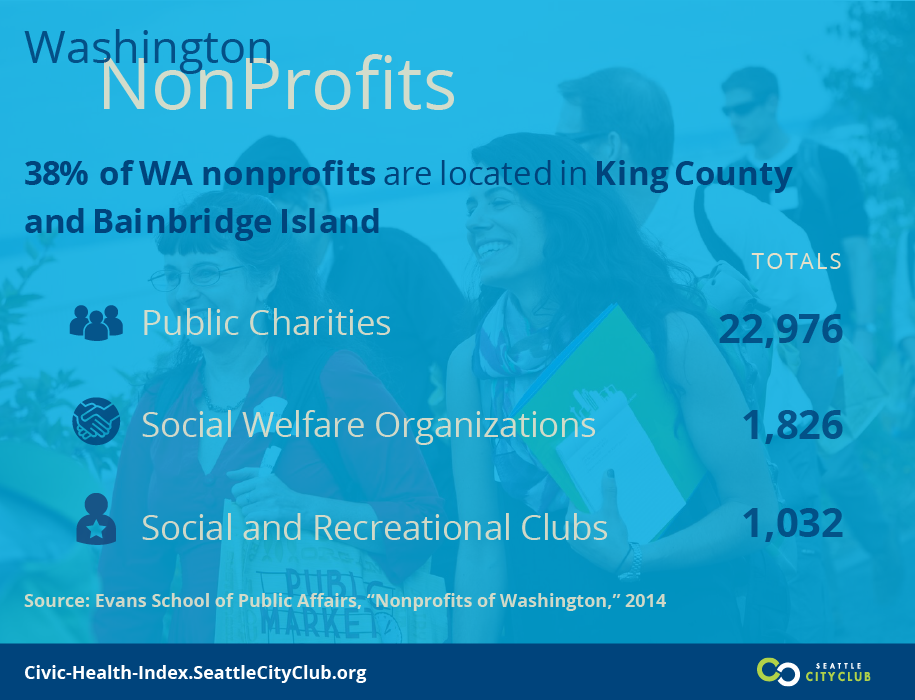 What makes a community healthy?
When asked what ingredients assure community health, Snohomish County residents have divergent views. Those who believe their community is not healthy prioritize the alleviation of crime and other security threats. Those who believe their community is healthy cite positive attributes, including neighbors knowing one another and access to parks, good food and health care. These responses provide a good list of civic health liabilities and assets.
Equity
To boost greater Seattle's health, local governments, regional foundations and grassroots community coalitions are focusing on equity. They recognize the need to dismantle systems of privilege and oppression that have led to inequitable decision-making processes and uneven distribution of benefits and burdens. They realize that communities first and worst affected by social injustices and discrimination must be engaged and resourced to remediate them. Remediation involves promoting opportunities to collaborate, make decisions, support existing leaders, build power and identify new leaders.
Follow these links to important regional organizations and initiatives investing in equity:
A recent report identifies "two common factors for building trust among disparate groups: discussion that allows people to explicitly raise issues of difference, such as race, gender, age and class, and activities that get people working together on tangible projects."
You can find an example of this strategy in action when Rebecca Saldaña, current executive director at Puget Sound Sage, discussed equity and climate change at Seattle CityClub's Civic Cocktail forum on October 2nd, 2016.
The Pierce County Auditor's Office and Tacoma-Pierce County Health Department recently initiated a partnership to answer questions about voter participation rates and how local government can better support voter participation. Their collaboration recognizes that civic empowerment is an important social determinant of health. By working together, they hope to improve both civic and physical health outcomes for their community.
Public trust
Public trust is a measure of residents' confidence in the power of community institutions to serve their needs. Our data on public trust indicate that greater Seattle is running counter to national trends: Trust in media and public schools increased over the last three years here while declining nationally. Trust in corporations rose nationally, but decreased in greater Seattle. Demographically, public trust rose with education and income levels but decreased with age.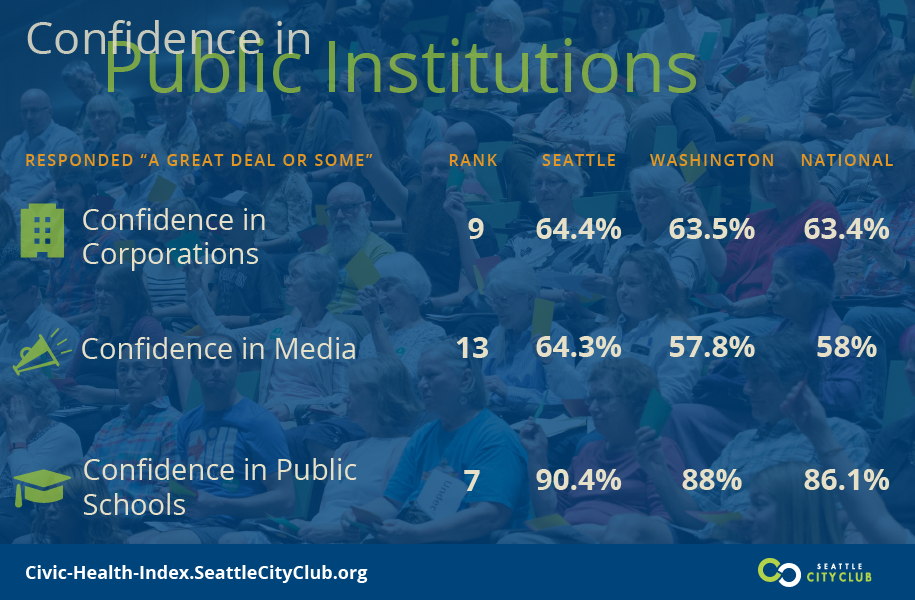 An informed community
Greater Seattle's news sources are changing rapidly. Traditional regional newspapers and hyperlocal websites are increasingly convening the community in addition to presenting the news. Their emphasis is on creating a new public square for citizen interaction and discussion as much as for professional reportage and opinion.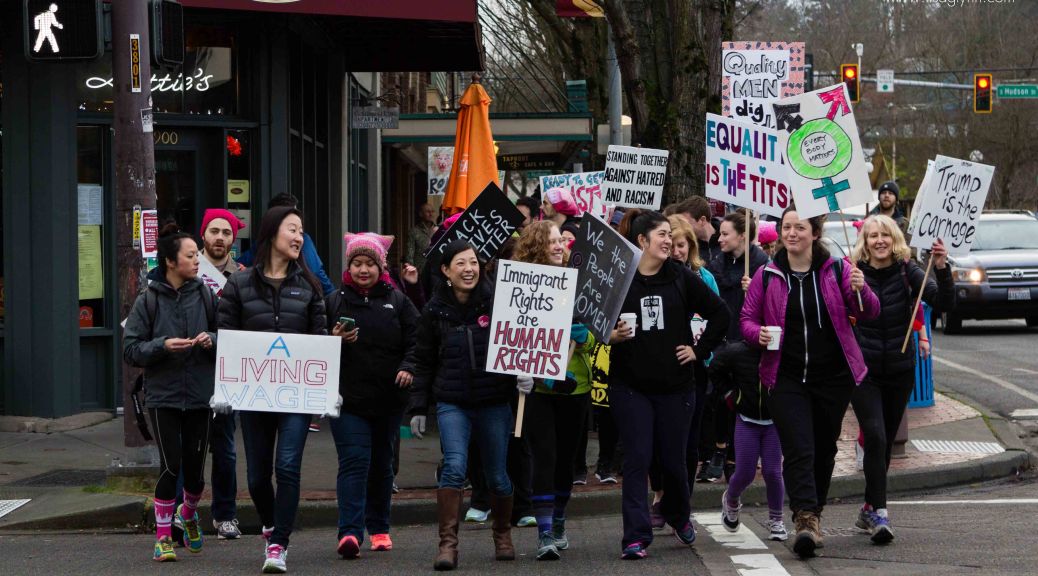 Source: The Emerald Photographer: Lisa Hagen Glynn
The South Seattle Emerald claims: "In a community long silenced by mainstream media, The Emerald acts as a powerful megaphone amplifying the voice and experience of South Seattle. (It is) founded as a platform that authentically depicts the dynamic voices, culture, arts, ideas, and businesses that fall within South Seattle's borders."
Follow these links to other news sites reflecting the spirit of community engagement and support:
Seattle's Equity and Environment Agenda describes communication pathways within diverse communities as civic pathways. "Many communities of color have strong storytelling cultures. Through the sharing of personal stories, not only are community members actively engaging, they are doing so in ways that are familiar and culturally appropriate." The Agenda recommends connecting the themes of community stories to data and policy in order to create a more comprehensive perspective on community issues, leadership and solutions."
Obstacles and Solutions
Following are obstacles to empowerment and inclusion in greater Seattle along with recommendations to improve civic engagement.

Social isolation—through aging, discrimination, language—endangers personal health and well-being.
Critical gaps in our knowledge of civic health and its alignment with physical, mental and emotional health prevent us from fully understanding and improving community health. We can't solve our region's health problems unless we attend to the social determinants of health.

Integrate public health efforts with support for individual and community empowerment.
Support ethnic media and media in languages other than English to alleviate news deserts. Train individuals and groups in story production as a form of civic engagement training.
Invest in civic infrastructure to empower under-resourced communities, build bridges between communities and encourage partnerships between government and community-based organizations.
Recognize and celebrate neighborliness. Keep focused on thawing the Seattle Freeze.

Civic Health
Index
Visit the homepage, this section explores greater Seattle's civic health and offers recommendations for you—for all of us—to improve it.

Empowerment and Inclusion
Examines rates of voting, political expression, and organizing in greater Seattle and how they impact political and civic power

Work and Prosperity
Examines greater Seattle's record of volunteering and philanthropy and how they engender a more committed and engaged workforce