We are organizers!
Greater Seattleites are 1st in the nation when it comes to rolling up our sleeves and coming together to solve problems and affect change in groups and organizations. Not only do we join groups in large numbers, we also step up to leadership positions as committee members and officers.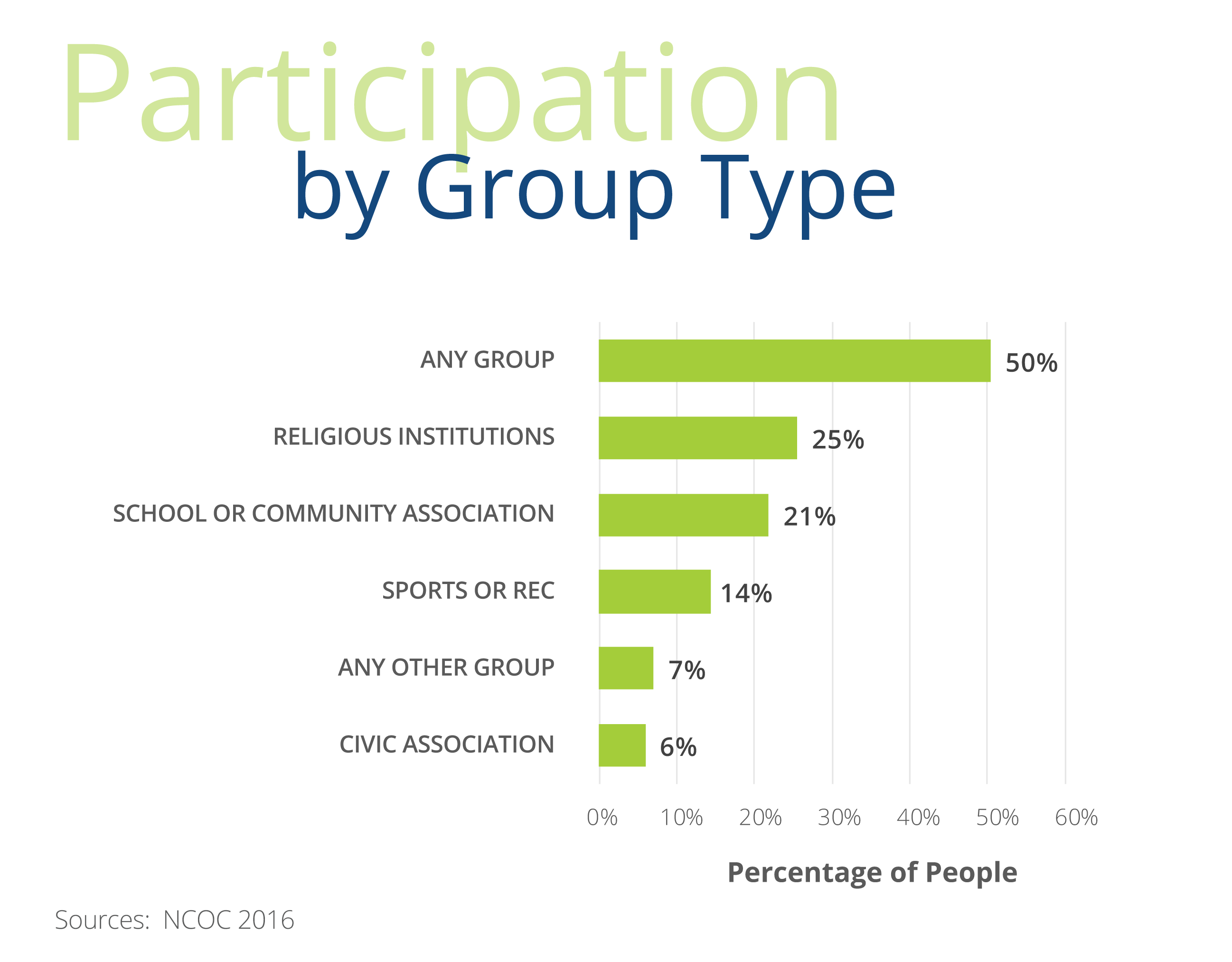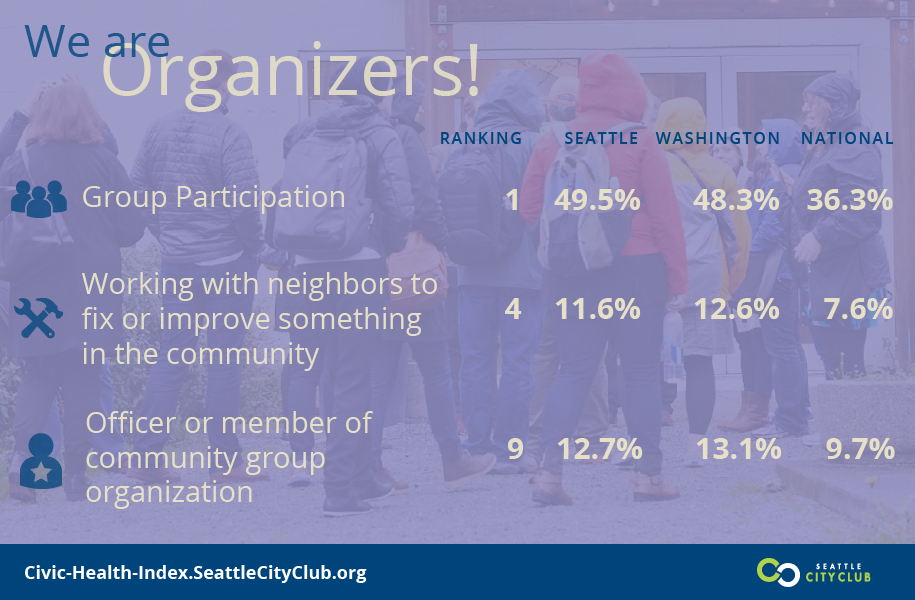 *Ranked against the 51 largest metropolitan areas
We are active politically
Citizen activism has long been one of greater Seattle's civic strengths. The newest civic health data show that trend is deepening. Greater Seattleites are 2nd in the nation in connecting with our leaders and making our voices heard politically. We contact public officials, attend public meetings and use our consumer power to support our political values. While voting in local elections is declining nationally, in Greater Seattle it is increasing.
Beneath the headlines
There are significant disparities in who participates in our civic life. These disparities follow income, race and ethnicity, age and gender lines, and they deepen when these demographic categories intersect. For example, the City of Seattle (2015 Immigrant Voting Task Force Report) reports that members of immigrant communities participate in civic life at lower rates than others. Language barriers, length of residency, discriminatory registration practices, county of origin, location of residence and re-districting all play a role in this decreased participation, particularly in voting.
Greater Seattle women are more civically engaged than men with higher rates of voting, volunteering, giving, belonging to groups, and connecting with family and friends.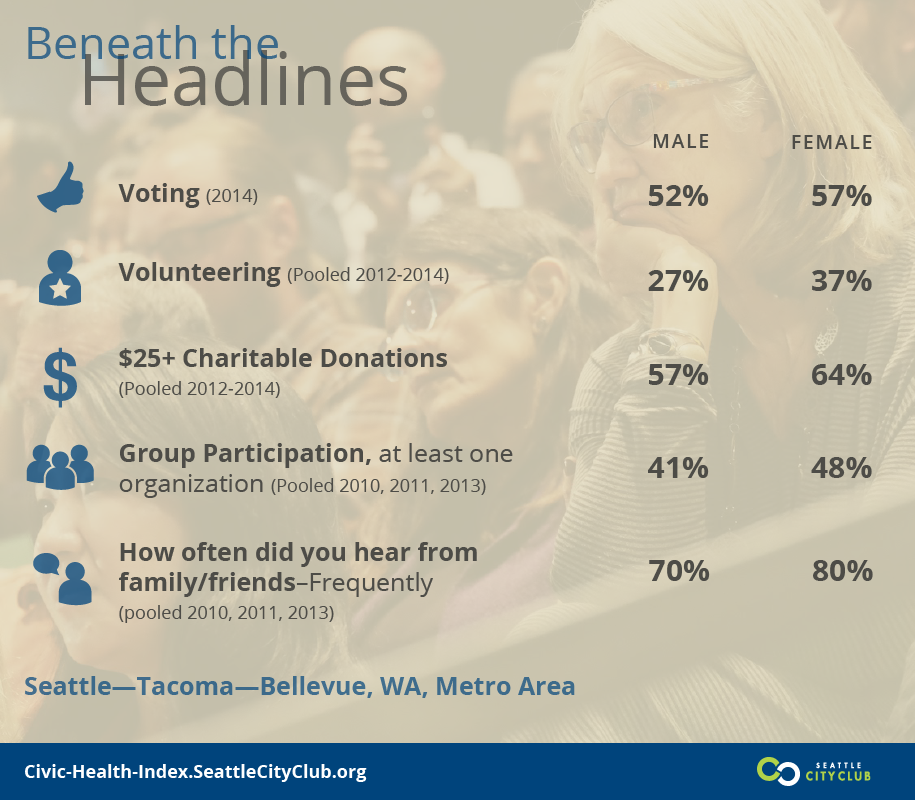 Yet there are significant disparities between married and unmarried women. Nationally, according to the Voter Participation Data Center, unmarried women participate at lower rates than married women. They also have a lower median income, are more likely to live in poverty, and more than three times as likely to earn the minimum wage or less. They're more likely to be unemployed, less likely to be homeowners, and more likely not to have health coverage.
Civic engagement generally rises with age, income level and racial majority. Greater Seattleites 45+ years of age are 2 ‑3 times more likely to vote than our region's 18–29 year olds. Members of families earning $75,000 + are more than twice as likely to register and vote as residents from families earning less than $35,000. Among ethnic/racial groups in greater Seattle and nationally, civic participation is lowest in the Latino community.
Explore the demographic disparities in greater Seattle's civic health
Click on the icons below and filter by indicators to change the bar chart
Source: National Conference on Citizenship analysis of the Census Current Population Survey data
Raising all voices
There is one civic metric in greater Seattle that doesn't follow dominant demographic trends in our own region and nationally: internet-based political expression. Young people in our region are more likely than older residents to express political concerns online, and lower-income residents are more likely than wealthier residents to do so. There are also not clear racial and ethnic disparities in online political expression.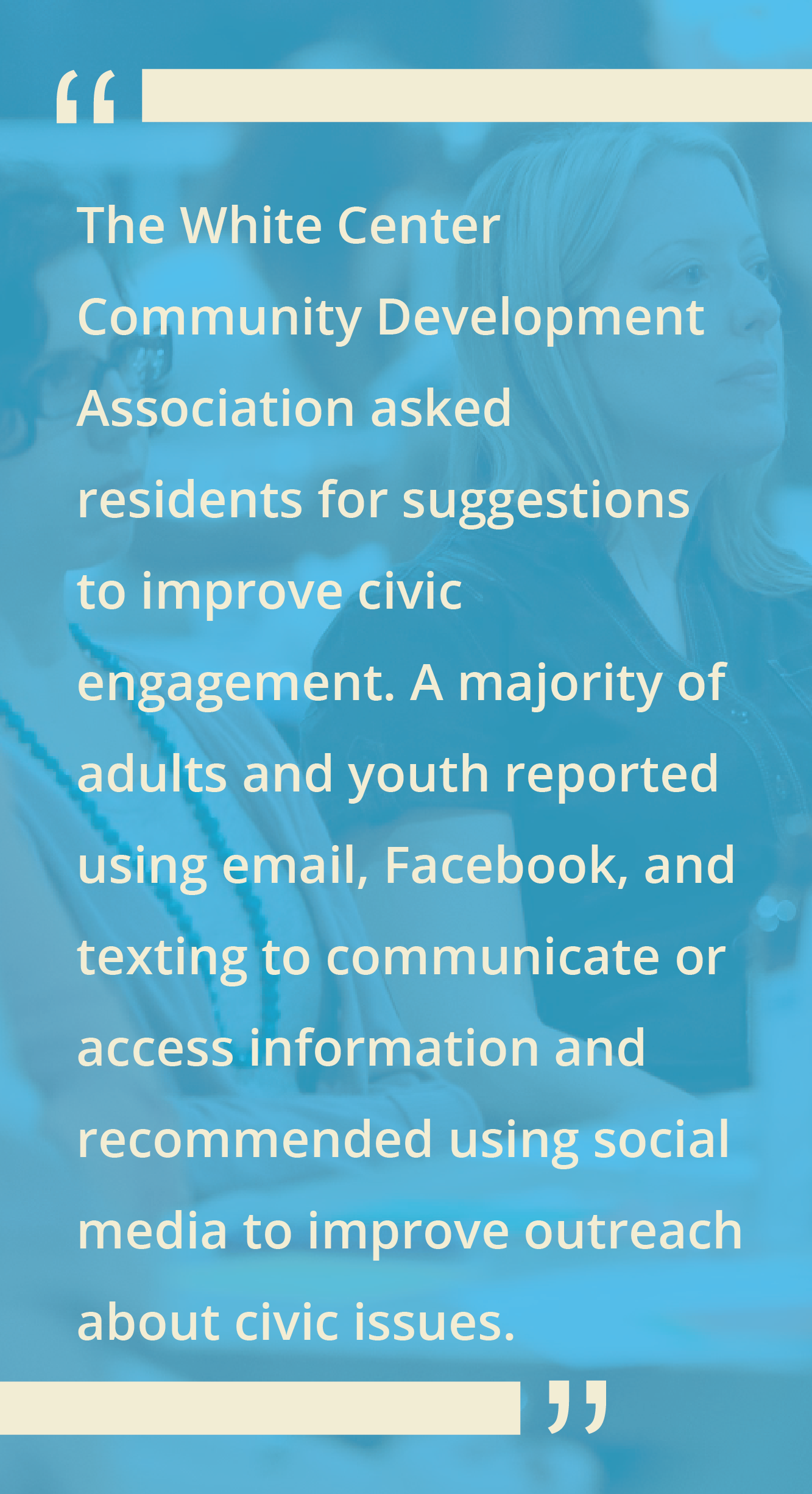 This is critical information for our efforts to relay civic information and promote engagement equitably. It calls for using multiple means of communications to inform, connect, inspire and activate all members of our community, especially underserved residents. It also underscores that digital literacy and access are critical investments in our civic infrastructure.
In 2016, Seattle adopted a digital equity action plan to ensure that all residents and neighborhoods have the information technology capacity needed for civic and cultural participation, employment, lifelong learning and access to essential services. Included in its goals are commitments to empower communities through civic and cultural participation, ensure residents can connect through social networking and mobile devices, and contribute to more self-sufficient residents, community-based organizations, and small businesses.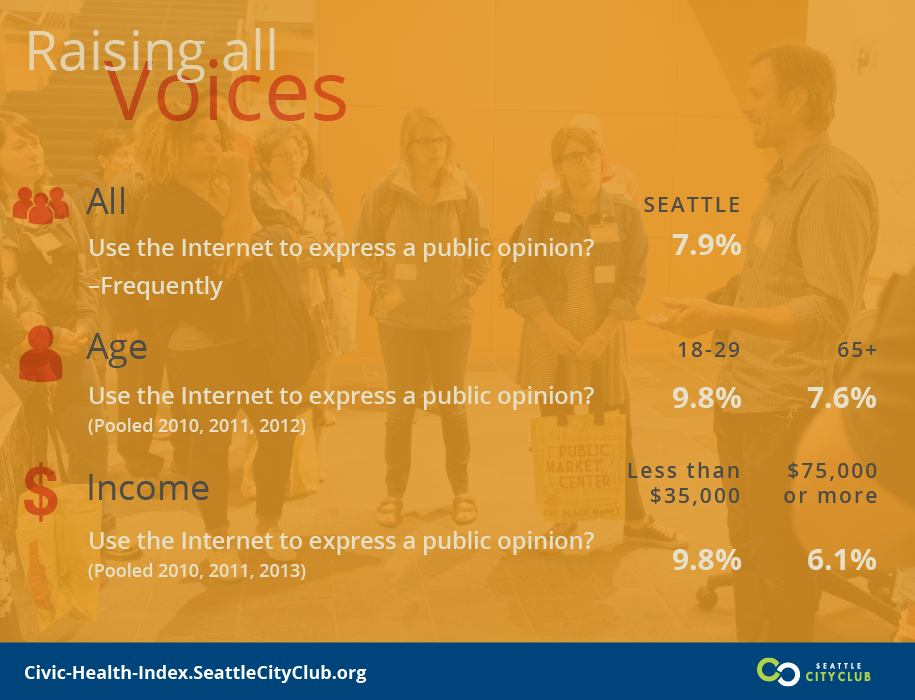 Online discourse: good, bad, ugly
Political engagement on social networking sites is increasing. According to a 2013 Pew Research Center study, 43% of social networking site users say they decided to learn more about a political or social issue because of something they read about on a social networking site, and 18% say they decided to take action involving a political or social issue because of something they read on those sites. (Taken from April 2013 Pew Research Center: Civic Engagement in the Digital Age)
In his article, Is Seattle Getting Nastier?, Seattle journalist Knute Berger says "Social media has made activists and propagandists of us all. Now everyone has a bullhorn." He claims this as a good thing—it helps call out latent racism and injustice—but he also observes its downside –increased negativity and extremism in political speech. He asks a big question: Is a more aggressive Seattle politics "a barrier to pragmatism, civility and cooperation, or is it a necessary new paradigm for systemic change?"
Education for engagement
Educational attainment is the single most important predictor of strong civic agency. Greater Seattle residents with a bachelor's or higher degree vote in local elections at double the rate of residents who haven't finished high school. The disparities are even bigger when it comes to attending public meetings, working with neighbors, contacting public officials, and participating in groups.
Dramatic racial, ethnic and income disparities in regional graduation rates negatively impact civic training for youth of color. This equity gap is one of the most serious threats to greater Seattle's continued civic strength, especially as our population grows more diverse.
A call for civics education renewal
The rights, responsibilities, opportunities and how-to's of active citizenship don't come naturally; they need to be taught and practiced. Training citizens is a fundamental purpose of public education.
Schools and youth development organizations are our most important civic learning laboratories. They teach the principles, history, and operational workings of our democracy through research, study and dialogue. They teach civic skills and habits through mock elections, volunteering requirements, student newspapers and governments, sports teams and clubs. Both types of civic learning – knowledge and experiences—are necessary. They are also complementary; research shows that discussing societal issues prompts increases in voting and volunteering, commitment to civic participation and interest in politics.
Unfortunately, classroom time and resources devoted to civic education are decreasing while political polarization has made many classrooms more homogeneous, posing a challenge for teachers who wish to address controversial issues and represent diverse viewpoints. This negative trend disproportionately affects youth of color and youth from disadvantaged families who have the least access to civic learning and skill-building.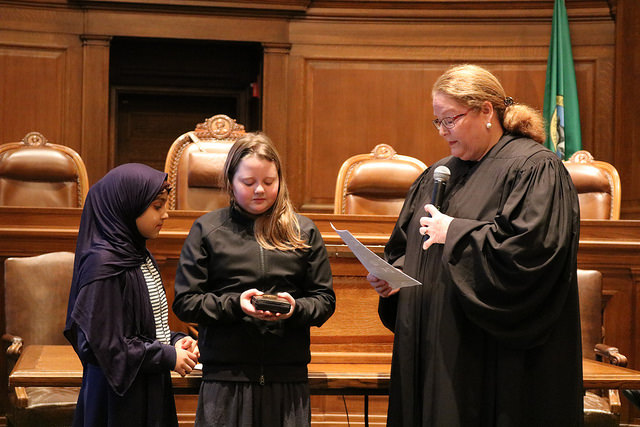 Source: The Council on Public Legal Education of Washington at the 2017 Civic Learning Initiative Summit One
The Institute for Community Leadership engages youth in their society and empowers them towards academic, social, and professional achievement. Culturally relevant and research-based curriculum directly addresses academic disparities and prepares youth for meaningful lives. Students who attend ICL classes increase civic engagement, social-emotional learning, social and public speaking roles, and academics. ICL carries out home visits with all our young people, creating an effective family, school, community network.
On a policy level, the Council on Public Legal Education has launched an ambitious initiative to bolster civic learning for all Washington students. Its goals are to ensure that they have access to high quality civic learning, to foster collaboration between in-school and out-of-school civic educators and to promote equity by prioritizing civic learning opportunities for underserved youth. You can connect to and support this vital initiative here.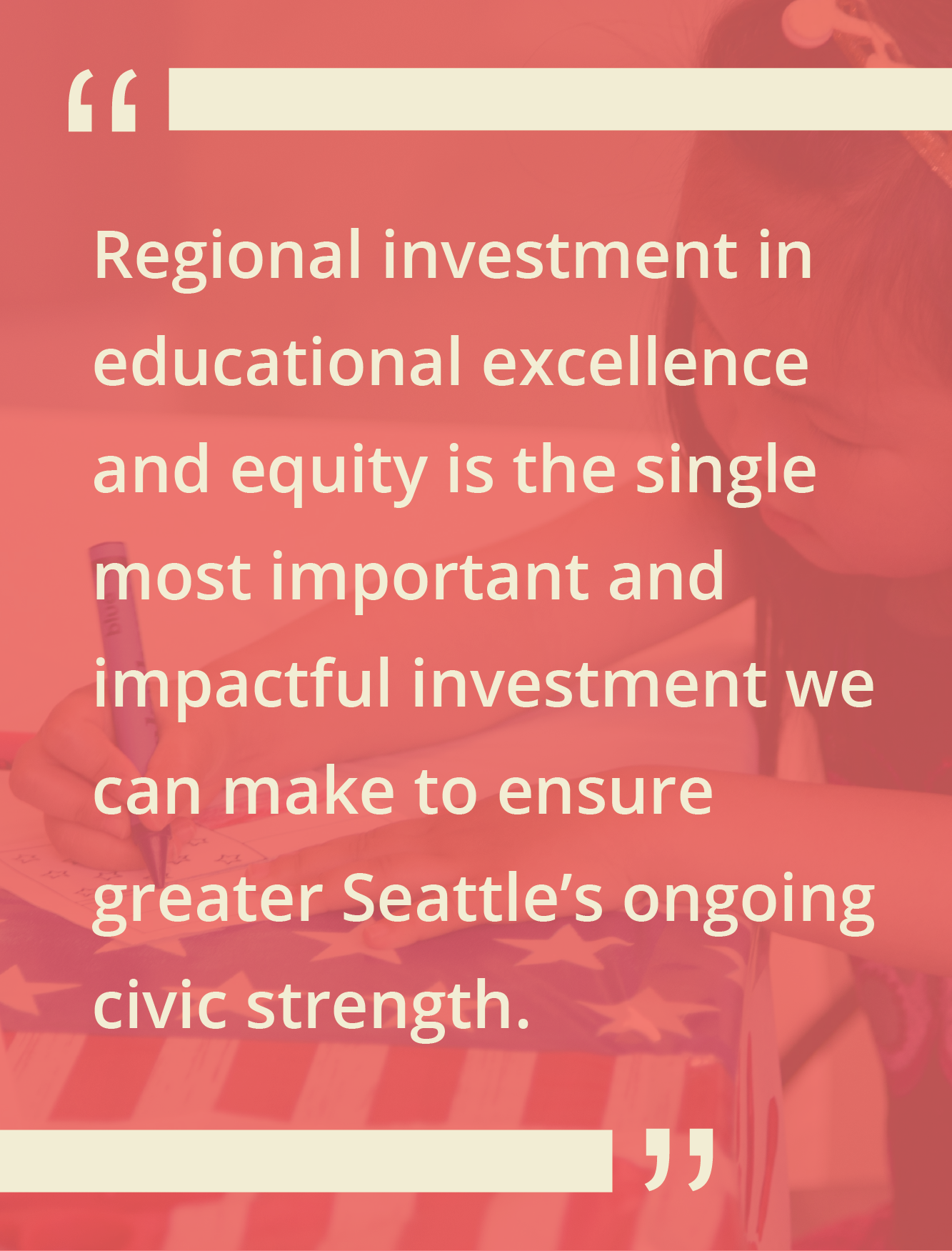 Obstacles and Solutions
Following are obstacles to empowerment and inclusion in greater Seattle along with recommendations to improve civic engagement.

Washington ranks among the top ten states with the largest number of residents with limited English proficiency.
Students of color experience more barriers to educational opportunity than white students, and poor and minority students also have less exposure to civic education and experiences.
Lack of resources for and controversy around teaching civics in schools.

Invest in educational excellence and equity as one of greater Seattle's chief priorities.
Strengthen policies and programs that support civic education in schools and youth development organizations.
Ensure that equity initiatives have an explicit civic engagement agenda that recognizes how the achievement gap for minority students leads directly to an empowerment gap for minority communities.
Eliminate language and other barriers to voter information and registration.
Invest in digital infrastructure, access and literacy for all residents.
Empower disenfranchised residents and communities and connect them to regional civic infrastructure.

Civic Health
Index
Visit the homepage, this section explores greater Seattle's civic health and offers recommendations for you—for all of us—to improve it.

Personal and Community Health
Examines neighborliness public trust, discrimination and social connections in greater Seattle and how they affect individual and communal vitality

Work and Prosperity
Examines greater Seattle's record of volunteering and philanthropy and how they engender a more committed and engaged workforce